Neue Ausgabe des International Journal for Digital Art History
Issue #3: Digital Space and Architecture
28.07.2018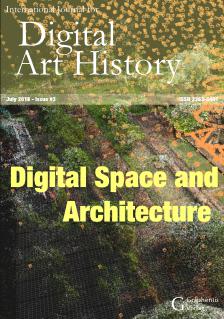 Die dritte Ausgabe der von Harald Klinke (LMU), Liska Surkemper (TUM) und Justin Underhill (UC Berkeley) herausgegebenen Open Access-Zeitschrift legt den Schwerpunkt auf die Chancen und Herausforderungen im 3D-Raum und der 3D-Rekonstruktion: Digital Space and Architecture.
Hier klicken zum Herunterladen: http://dah-journal.org/current.html
Für das Inhaltsverzeichnis: siehe unten.
Das Journal hat einen eigenen Newsletter, der über neue Ausgaben informiert.
Zudem gibt es einen Twitter-Feed.
Bitte beachten Sie den Call for Manuscripts für die nächste Ausgabe: http://dah-journal.org/call_04.html
----------------------
We are proud to announce that the third issue "Digital Space and Architecture" is now available.
Please click here: http://dah-journal.org/current.html
For the table of contents see below.
The International Journal of Digital Art History is a peer-reviewed open-access journal dedicated to digital research and content creation within art history and visual culture studies. Each issue is thematically organized to allow a diverse group of researchers to address an important topic within the subfield.
The current issue focuses on opportunities and challenges in 3D space and reconstruction in Digital Art History and Architecture.
Subscribe to our newsletter: http://dah-journal.org/
Follow us on Twitter: https://twitter.com/dahjournal
Please notice our Call for Manuscripts #4 on Digital Transformation of Institutions: http://dah-journal.org/call_04.html
Contents

Editorial
Harald Klinke, Liska Surkemper, Justin Underhill
Creating New Spaces in Art History

Featured Article
Mario Carpo
Big Data and the End of History

Digital Space and Architecture
Sander Münster, Kristina Friedrichs, Wolfgang Hegel
3D Reconstruction Techniques as a Cultural Shift in Art History?

Stefan Boeykens, Sanne Maekelberg, Krista de Jonge
(Re-)Creating the Past: 10 Years of Digital Historical Reconstructions Using BIM

Una Ulrike Schäfer
Uncertainty Visualization and Digital 3D Modeling in Archaeology. A Brief Introduction

Interview
Justin Underhill In Conversation with CyArk:
Digital Heritage in the 21st Century

Critical Section
Claire Bishop
Against Digital Art History

Ulrich Pfisterer
Big Bang Art History

Giacomo Mercuriali
Computational Imagination and Digital Art History

Tracey Berg-Fulton, Alison Langmead, Thomas Lombardi, David Newbury, and Christopher Nygren
A Role-Based Model for Successful Collaboration in Digital Art History

Summaries of Workshops
Nuria Rodríguez Ortega
Summer School on Digital Art History (DAHSS). Data-driven Analysis and Digital Narratives

Sonja Gasser
Coding Dürer. International Interdisciplinary Hackathon for Art History and Information Science

Addendum
Call for Manuscripts #4


Editors
Harald Klinke, Ludwig Maximilian University, Germany
Liska Surkemper, Technical University Munich, Germany
Justin Underhill, UC Berkeley, USA

Advisory Board
Prof. Dr. Günther Görz, Friedrich-Alexander-Universität Erlangen-Nürnberg, Germany
Dr. Anna Bentkowska-Kafel, Independent Scholar, London, UK
Prof. Dr. Hubertus Kohle, Ludwig Maximilian University, Germany
Prof. Dr. Lev Manovich, City University of New York, USA
Dr. Maximilian Schich, University of Texas, USA
Prof. Dr. Stephan Trüby, University of Stuttgart, Germany

ISSN-Print 2363-5398
ISSN-Internet 2363-5401